If you are interested in any of the dogs on this site, or may be in the future, please submit this adoption application.  It will get the process started quickly so that a Dalmatian, or other dog, can be yours as soon as possible.   Please note that the dogs are available for adoption within the Houston/Austin area.   Don't forget to press the submit button!

I have read the above information carefully and have filled out this application honestly. I understand that omission of information and/or failure to answer all questions can result in this application being declined. Also, if an omission or untruth is discovered after an adoption takes place, I understand and accept that Recycled Canines Dalmatian Rescue has the right to annul the adoption and reclaim the dog.

I give Recycled Canines Dalmatian Rescue permission to fully investigate the information provided as well as contact veterinarians and references. If the application passes this review, I agree to a home and yard visit on a mutually agreed date by a rescue representative before an adoption decision is made.

Furthermore, I understand and accept that the adoption decision depends upon many factors, including -- but not limited to -- the compatibility of the family and home to the individual dog and other applications received on the dog. I understand and accept that it is the Recycled Canines Dalmatian Rescue's perogative to decide which home is most appropriate for the individual dog, and therefore I will not take issue with the decision. Unless otherwise indicated by Recycled Canines Dalmatian Rescue , I may be considered for another dog.

Any other pets in the household?  Please indicate Type, breed, age and if it is spayed/neutered:

Please list other adults and children in the household (ages and any animal allergies):

While you are at home, where will your dog spend MOST of its time?

What attracted you to this breed/dog or what characteristics are you looking for in a dog?

List the breed and NAME(s) of the dog(s) you are interested in:

Where will your dog be kept while you are not at home (work, errands, etc)?

What would be a reason for you to not keep a dog or place it in another home?

Vet you currently use or have used in the past- include clinic name, location, phone number, and the name the animals are registered under.   If you do not have a vet please give another personal reference instead.  If you have owned a dog in the past, you MUST provide a veterinary reference to be considered.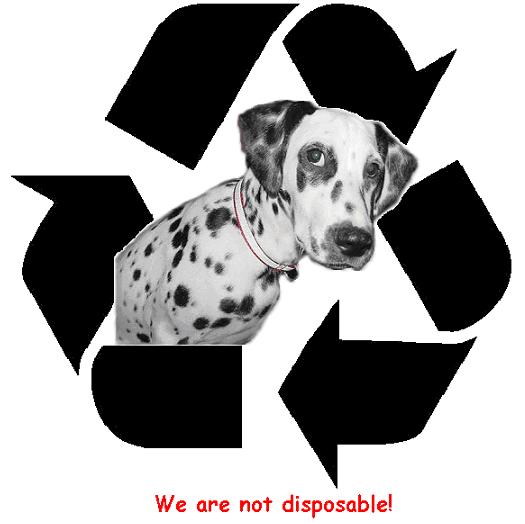 Where will your dog sleep at night?

Are you willing to take your dog to obedience classes? Why or why not?

Have you ever gotten rid of or given away an animal before?  If yes, please explain.

How will you exercise your Dog?

How many hours will you be away from the dog on the average day?

Do you realize that dogs need vet care throughout their lives, including yearly boosters, heartworm and flea/tick preventative meds, etc?   (If you cannot afford the adoption donation of $200.00, you probably cannot afford the appropriate annual vet care).

Previous Dogs - Have you ever owned a dog before?  If yes, please state breed and where the dog is at now.

Have you done any research on the breed you are interested in?  If so, do you know what this animal was bred for and its general traits?  What are you looking for in a new companion? 

What activities do you plan on doing with your dog, i.e. obedience, agility, therapy dog, walking partner, cuddling?

How did you hear about our rescue?  (Friend, Petsmart, internet search, Petfinder, etc)

Do you realize that there will be an adjustment period which could take anywhere from a few days to a a few months? 

Are your animals up to date on vaccinations?  When are they due again?

  What brand of heartworm prevention do you use with your current dogs and/or what would you use       with this dog?  When are your dogs due for heartworm preventative and are they up to date?

ALL FIELDS MUST BE FILLED OUT TO BE ELIGIBLE!

WE DO NOT ADOPT OUT DOGS LONG DISTANCE!  You must live within a reasonable drive of Houston so that a volunteer can do a homevisit.

What brand of dog food would you feed?


Type of home (house, ranch, apartment, townhome):

Do you have a COMPLETELY fenced in yard that would properly confine this type of dog?  Type of fencing and approximate area:

Are you willing to crate train your dog? Why or Why not?

If already housetrained, will the dog have access to a doggie door?

Have you already reviewed the Adoption Process link, including the Adoption Contract? 
(This is required prior to submitting an application)

  Do you rent or own?  If you rent, please provide a contact number so we      can verify that you are allowed to have a dog

Where will your dog be kept while you are on vacation?

Our foster dogs are located all over the Houston area.  Are you willing to drive to pick up your new family member if you are approved to adopt?

Did you know...

Everyone in RCDR is a volunteer and helps out in addition to their full time jobs?

Most foster homes spend all day on Saturday (and some Sundays) at adoptions trying to find homes for these dogs?

The average foster home puts 5000 miles on their car each year going to adoptions, the vet, shelters, etc, just for these dogs?

Our foster homes donate many hours beyond Saturdays trying to train and housebreak their foster dogs so that they can become a great dog for someone else?

We ALWAYS need more foster homes - it's a thankless job, but the dogs are counting on us!

If you receive an error, it means that you haven't answered one of the questions.  Please make sure every answer is filled out, even if it is NA.

Personal reference name and phone number.  How do you know this person?

Are you over the age of 21?

What would you do if your new pet chews the furniture or displays other destructive behavior?

Are you willing to make a lifetime commitment to this dog?

Have you previously adopted a pet from a shelter or rescue group?  If so, which group?